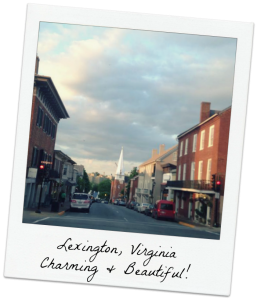 Disclaimer: We are totally biased on this topic. We don't need any top 10 lists, polls or surveys to know that Lexington, VA is a charming town. All you have to do is take a stroll down historic Main Street or take a carriage ride on a summer evening – Lexington, VA practically oozes charm!
However, it's gratifying to see that visitors also recognize that Lexington is a special place. This tiny city of just over 7,000 people could easily be overlooked by busy travel writers/bloggers. We were so pleased to see that OnlyInYourState.com placed Lexington in the #5 spot on their list of the "10 Most Beautiful, Charming Towns in Virginia." Lexington was ranked among the likes of Staunton, Occoquan, Warrenton and Chincoteague, Virginia. (All of which are ridiculously charming.)
We are fortunate to live in a place that has an abundance of both natural and man-made beauty. The shops in Downtown Lexington and the residential homes in the historic district have been lovingly maintained or restored. The craftsmanship of these architectural gems provides Lexington with a historic grace that simply cannot be mimicked. There is a timeless sense of beauty and charm throughout the streets and sidewalks of Lexington.
The lovely architecture can only be topped by the city's beautiful natural setting. Even those of us who grew up around Lexington find ourselves in awe of the stunning scenery. It never gets old. Every sunrise and sunset is slightly different than the next; the light falls on House Mountain at a new and interesting angle or a storm gives way to a brilliant rainbow. The mountains surrounding Lexington provide a stunning backdrop that is most certainly beautiful.
Many thanks to OnlyInYourState.com for telling others about the charm and beauty we get to witness each day here in Lexington. Whether you're just visiting for the day or you're looking for a new hometown, you're sure to find ample amounts of charm, beauty, culture and hospitality here in Lexington, VA.