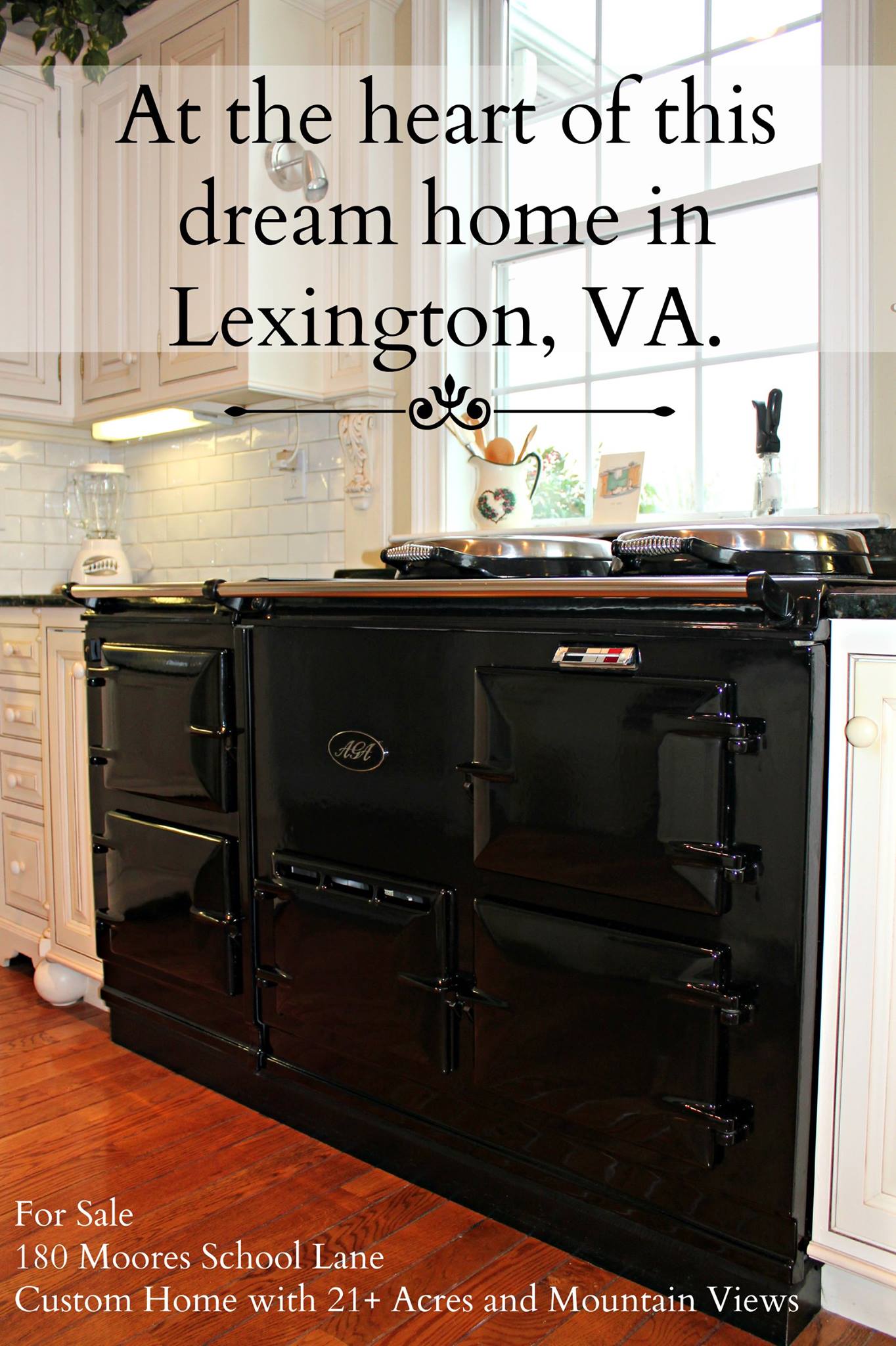 Update: Please note that this particular Lexington, VA home is no longer for sale. Contact Carolyn Kuper, Lexington Real Estate Connection Agent, at 540-463-2016 if you're interested in similar properties. 
Afternoon tea, hunting dogs, double-decker buses, the stiff upper lip… All quite British. An AGA cooker could also be included in the list. The timeless design and utility of AGAs has made them a "must have" for proper English homes. (It's also a favorite of celebrities such as Paul McCartney, Jamie Oliver, and the Duchess of Cornwall.) While AGAs are still beloved by tasteful Brits, the brand can now be found in kitchens throughout the world – including right here in Rockbridge County, VA!
The spacious kitchen at 180 Moores School Lane looks like it could be the set for a TV cooking show. Ample granite counter tops, beautiful cabinetry, light streaming through the custom windows, and of course, the glossy black AGA cooker as the centerpiece. The iconic appliance makes the kitchen feel simultaneously high-end and cozy. It's the kind of kitchen that would inspire you to try new recipes, host dinner parties, and prepare meals as a family. However, the home's AGA is much more than an aesthetic choice. The quality and flavor of food prepared with an AGA is extraordinary.
The AGA is a classic because it can truly do it all. The cast iron cooker includes both ovens and hotplates. Whether you're preparing Thanksgiving dinner, steak, pizza, dessert or a quick stir-fry, the results are delicious. The AGA's radiant heat locks in the food's flavor and moisture in a way that standard ovens cannot.
Most importantly, an AGA becomes the heart of the kitchen and the home – a place for preparing family meals and making memories. Picture yourself living in this lovely home surrounded by family, friends, stunning mountain views, and of course, amazing food! Like the AGA itself, the home at 180 Moores School Lane is gracious, classic and welcoming.
---
Contact Carolyn Kuper at (540) 463-2016 to learn more about 180 Moores School Lane, Lexington, VA or to schedule a private showing. The photos of this property are gorgeous but you need to see it in-person to truly appreciate the 360 degree mountain views, 21+ acres, and beautiful floor plan.