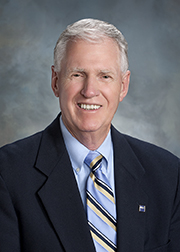 Glenn was born in Washington, D.C. and grew up in northern Virginia. He received a BA from Morehead State University and a MEd from the University of Virginia and began a thirty-three year career as a high school history and government teacher as well as a football and basketball coach. His teaching stops included Fairfax and Augusta Counties in Virginia and Ft. Myers and Cape Coral in Florida.
Glenn began his real estate career in 2000 in the Lexington and Rockbridge County areas of the Shenandoah Valley where he continues to work today! He has earned the respected Accredited Land Consultant designation gained through a combination of additional course work and successful sales.
Glenn and his wife, Cathy, live outside the village of Fairfield. They have five grown children. He enjoys gardening, travel, attending sporting events and entertaining the grandchildren.
If you are looking for recreational land, a farm, or a retirement residence in the beautiful surroundings of the Valley, give a Glenn a call to discuss your needs.
Contact Glenn today:
Glenn Parks
Mobile: (540) 460-4660
gparks13@gmail.com